We are very happy to announce that our MEAN stack zero-to-hero course now comes with certification!
How to get certified
Each section of the course contains a quiz. To get the certificate you need to complete the course and get a pass mark of 75% on each quiz.
Certification has been a much requested feature, and we feel it makes sense to test your knowledge first so that you really earn it. This way the certificate really means something!
When you've got the certificate you can easily print it out, add it to your LinkedIn profile or share it on your social networks.
The certificate looks like this: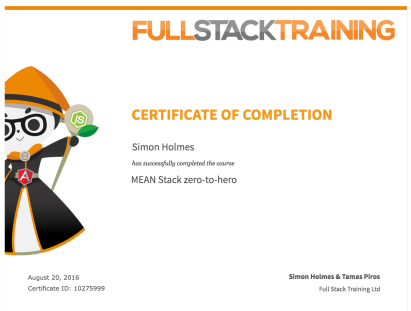 What's in the MEAN stack course
As mentioned, there are five sections in the course, each containing a quiz. The sections are:
Creating web servers with Node.js and Express
Working with MongoDB and NoSQL
Build robust REST APIs using Node.js, Express and MongoDB
Single Page Applications with AngularJS, the right way
Adding authentication to the MEAN stack
As well as the quizzes and the certificate the course includes about 12 hours of video teaching, a code repo you can checkout and various activities. We are big believers in "doing things the right way" so there are best practices throughout the course.
Sound good? Check out the main page for our MEAN Stack Course with certificate.